Create and share your own dashboards
As you already know you can create several personalized dashboards. You select widgets to display your IoT data (or meta data) or to display your fleet organization and its distribution. Now you can build a dashboard for your company and share them to other people in your organization.
Follow you IoT fleet
You would like to display IoT data: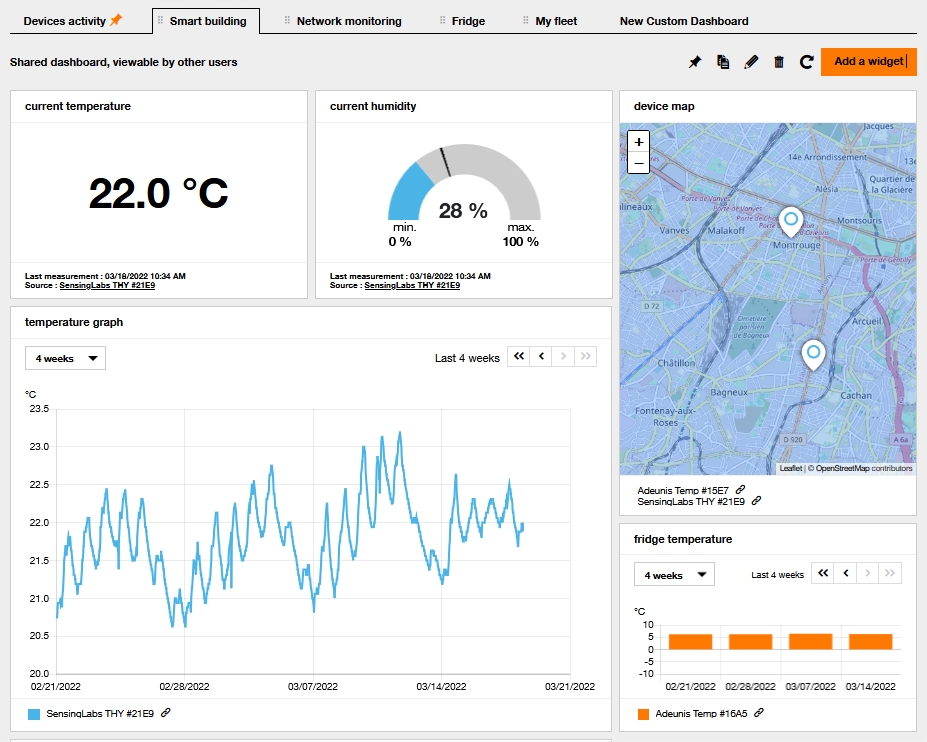 or the organization of your IoT fleet:
Create personalized dashboards
Just do it in a few clicks. Just go on "Dashboard" page in your Live Objects account. And click on "Add a custom dashboard"

Keep "Create a new dashboard" choice.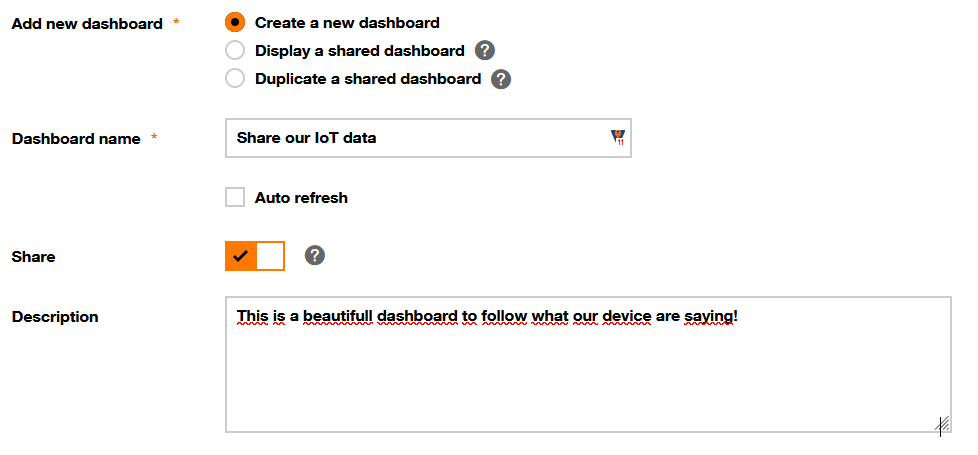 You can decide to share it at once or keep it private while building it. You will be able to turn a private dashboard into a shared one later.
Before sharing your dashboard, I advise to write a description. It will be important for your colleague to understand the goal of your dashboard to choose the right one.
Do not forget to name your dashboard!
then Live Objects displays the available widgets
to monitor data:
Value: display the last value of a device
Line Chart: display the value sent by one or several devices over a period
Map with value: up to 10 devices on a map displaying their last value
Gauge: like value widget but with a gauge shape
Histogram: display the value sent by one or several devices over a period
On/Off: display a boolean value
Statistics: Display the minimum, maximum, average or sum for a selection of devices over a period
Last values: Display the latest values of a device
Note that for LoRa, you can also display meta data and use statistics widget to monitor RSSI, SNR… average value on a specific group.
to monitor devices:
Distribution of a group of devices by tags/properties/LoRa status/LoRa device profiles
Fleet inventory by group
Uplink traffic: histogram of uplink messages traffic over a period
Map of a group of devices or all your fleet with their connectivity status
Fill the settings of the widget.
You can create several widgets on each personalized dashboards and of course several personalized dashboards.
You choose your personalized dashboard by default clicking on the pin:

share with other users
Then the person who wants to use that shared dashboard must log on its own account. Then click on the "Add a custom dashboard" button

Then two possibilities, note that by default, a dashboard is not shared with others:
You won't modify the dashboard, only the person who created the dashboard can edit it, choose "Display a shared dashboard"
You want to modify the dashboard, choose "Duplicate a shared dashboard"

Then select the dashboard that interests you and validate on confirm.
That's all folks!