Get started quickly with LoRa®
Learn how to connect a LoRaWAN device, decoding its data and display it in Live Objects
Register your object on the network
1)Open your Live Objects account and click on the "Device" tab.
2)Click on "Add a device"
3)Enter the profile of your object
Tip: You don't know which profile to use, we advise you to use Generic_classA_RX2SF12 (class A objects) or Generic_classC_RX2SF12 (class C objects).
4)Enter the DevEui, AppEUI and AppKey of the object. This information is provided by the manufacturer of the object (Orange does not have access to it).
5)With the Premium offer, you can select the decoder, if it exists, for your object. Check the decoder list on Live Objects documentation.
Your object appears in the list of equipment in the "Device" tab. You can follow its status on the network. See the list of the status
View and follow your data in Live Objects
Go to the "Dashboard" page and click on the "+" button next to "Device activity".
You can then create several dashboards.
To display the values ​​reported by your objects, you must have the Premium offer and have associated a decoder to your object.
If you do not have the Premium offer, you will still be able to monitor the position of your objects as well as network indicators (RSSI, SNR …).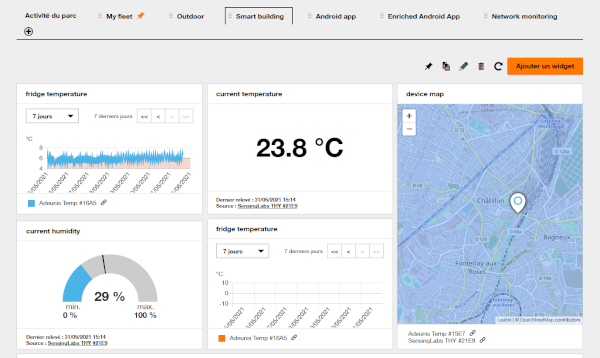 Warning: to create a widget displaying data, the object sending this data must have communicated first (Activated status).
Recover your data in an application
Live Objects offers you several modes to use your IoT data in your applications according to your needs:
– FIFO: data is kept on Live Objects until you come to pick it up using MQTT application mode
– HTTP push: the data is sent to your server as it is available in HTTP
To configure your data routing, go to the "Data" tab, then click on "Routing" to configure FIFO and HTTP Push.