New release 2.9
Proud to announce you the birth of "Live Objects sensor" our Android application! Also 3 new widgets available, improvement of campaigns, a better way to secure SSL connections...
Live Objects sensor, our Android application
This application provides support for technicians during the installation of sensors already provisioned in the Live Objects platform. You can :
find devices in Live Objects
edit devices information
validate reception of payload messages
assign a static location to a sensor
visualize the position of the sensor in relation to the technician position
Click and download on Google Play
Device management & campaigns
Now you can ask for a retry when you configure an acknowledgement on your commands (donwlinks) in order to increase success rate. This new functionality is available for all connectivity except SMS.
Also when sending a command, you get a warning message if a command is already pending.
Concerning campaigns, 2 new features :
when you download a CSV file with the results of a campaign, the name of that file includes the name of the exported campaign
you have also a new status for your campaigns. You had notStarted, pending, success, failure and canceled, welcome to inProgress ! It means that Live Objects has already started to send command(s) to the device
As a consequence when you make a soft cancel, Live Objects cancels the operations only on « pending » and NOT on « in progress ».
Secure MQTT connections
You can now use SSL certificates on your IP devices (fix or cellular). All you have to do is to import the CA Certificate of the authority you use to create your certificate.
To import it, go in Configuration/API keys/Certificates CA
Then associate that imported CA certificate to an API key used by your devices.
3 new widgets – "on/off", statics and activity rate of your devices
Statistic widget enables to display the minimum, average, maximum or sum of the value of a group of devices (or 10 selected devices).
On off widget enables to follow a multi states value. For instance to display "open" or "close" if your device returns 1 or 0. You can define more than 2 states in order to display if a temperature is "OK", "Too hot", 'hot" or "not sure".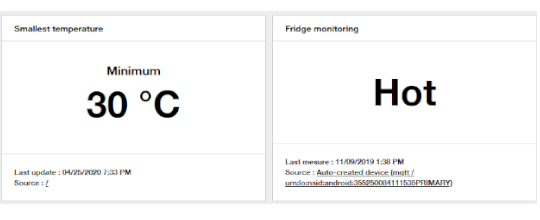 Also, on your activity dashboard, you can follow the activity rate of your devices. The blue line represents the (sum of devices which have sent a payload at least) / (Sum of all declared devices).

LoRa specific evolutions
Provisioning of LoRa objects : you can view the configuration of the connectivity plans which allow you to define the network configuration of the object (number of transmissions, SfMax, SfMin …). In addition, if you have the ack uplink option you can activate it object by object.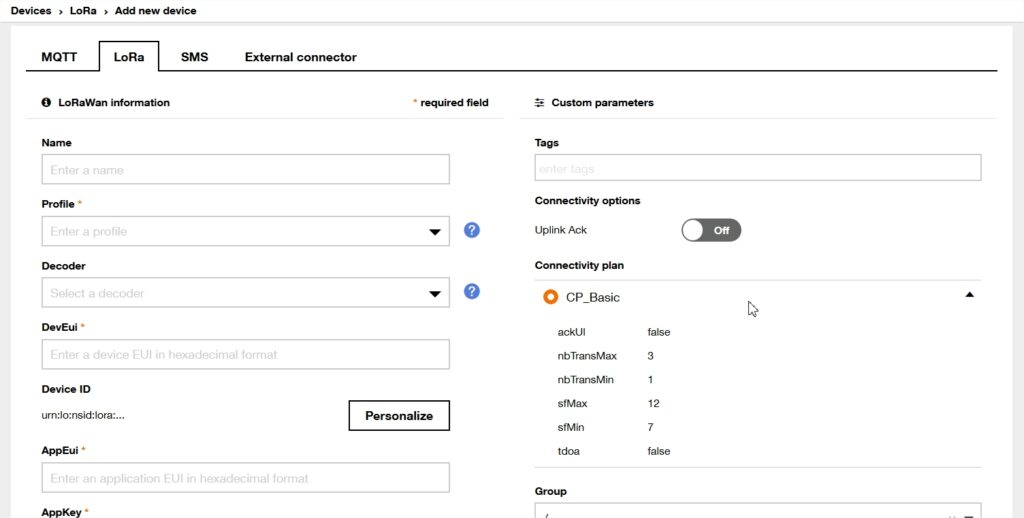 Decoders in LoRa offer :
Besides the private decoders that you can develop, and the public decoders developed by Orange, you can also have beta public decoders that you can use without development.
The new decoders available concern the following objects:
Ascoel CM868LR and CMUS915LR
Bosch (pls_tps110)
Adeunis Analog and ARF8123AAB Field Test Device
Nanosense E4000 and P4000)
Eolane Bob
BK-G PULSE READER and Dragino (LH65).
API evolutions & bug fixes
Potential impacts:
A GET on /api/v0/eventprocessing/activity/states API is now limited (20 -by default if limit parameter is not set- up to 1000 maximum)
/api/v1/event2action/actionPolicies can NOT handle a list of more than 20 items on trigger filter section
Old legacy MQTT ports will be closed (1884, 1885 and 1886)