How to connect and manage your Sigfox devices in Live Objects
You have deployed or you plan to deploy some Sigfox devices and you need to manage them in an IoT platform? You manage your Lora or cellular devices fleet on Live Objects and you want to enrich it by some Sigfox devices? Here is the solution for you!
As you might already know, Sigfox network is one of LPWAN technologies that is covering many countries and used in different IoT use cases. So, you might use Sigfox network with your IoT devices for many reasons (selected devices using Sigfox network only, …). If so, and to allow you to take advantages of Orange large number of device management and data management features,Live Objects proposes now an open source Sigfox connector.
This Sigfox – Live Objects connector allows:
Devices synchronization – every device created/deleted in Sigfox will appear/disapper in/from Live Objects
Messages synchronization – every message sent by your devices to Sigfox will appear in Live Objects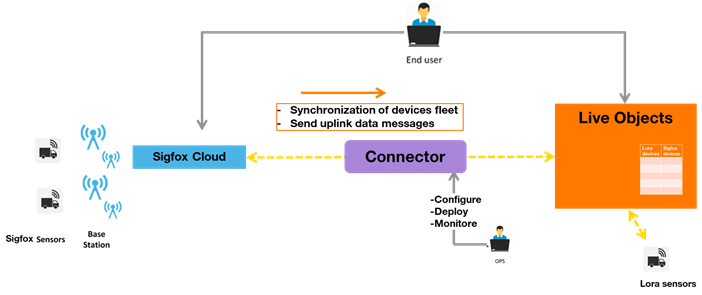 Then, this connector allows you to integrate your devices currently using Sigfox or your new Sigfox devices into Live Objects (in addition to those using Lora) in order to centralize your IoT data in the same platform, build your IoT applications while streamlining the migration of your devices fleet from Sigfox to Lora if needed.
So, don't wait to download your Sigfox-Live Objects connector here: https://github.com/DatavenueLiveObjects/Sigfox-Live-Objects-connector
Otherwise, if you want us to instantiate and monitor the connector for you, don't hesitate to contact us at: liveobjects.vendor@orange.com