New release 2.14 of Live Objects
Configure and manage multi-protocol devices, cancel a LoRa command already sent to the network, route LoRa networks event in the web portal
First, technical message: On November 24th, a new public IP will be added to our outgoing proxies.
If you have set up IP filtering rules on your IT:
you should add this new IP 90.84.246.158 before November 24th to avoid any message loss.
The existing IP 90.84.190.128 will continue so you have to keep it
If you do not filter our IP addresses, no impact for you.
Route LoRa network events in the web portal
! Remember it was already available by API.
Now you can easily configure your LoRa network events to your servers (at your choice by push HTTP or through a FIFO). At your choice, you can send all events or only event types you need (join requests, join accepts, confirmed data down…).
Cancel a LoRa command already sent to the network
You can cancel a LoRa order that is being processed, as long as it has not actually been sent from the network to the device.
If you have outdated orders already in our network and want to cancel them. You make sure that only fresh orders are sent.
For example, if you need to set time on your devices. Order deletions are possible, even if they have already left into the network.
Multi-protocol devices
In Live Objects, a protocol is linked to an interface. Now you can define a device managing several protocols or interfaces.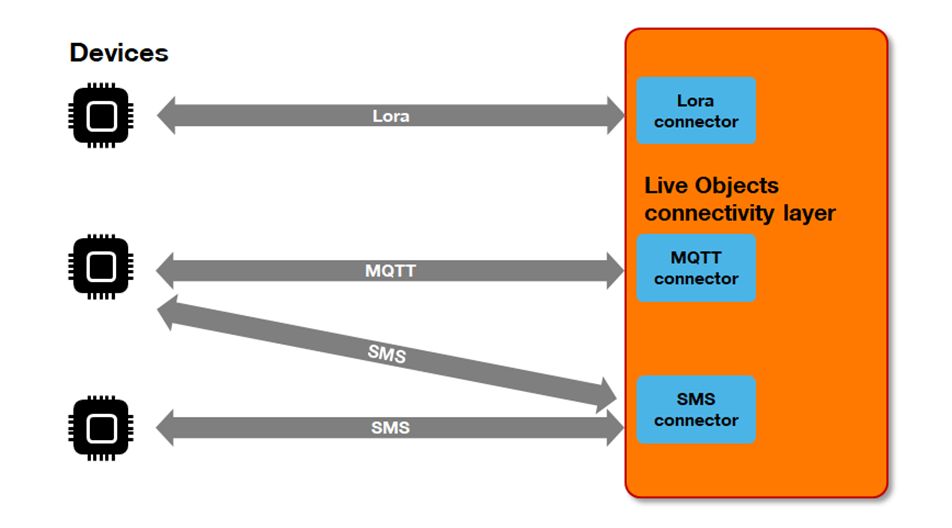 For instance in a project, a device can communicate with MQTT when it is powered and with LoRa when it is on batteries.
Depending on your offer, your devices can have (several) LoRa, SMS, MQTT, External connector interfaces.
Then you define alarms on devices and not on protocols.
You manage devices and not protocols.