New release of Live Objects 2.19
Explore your fleet of devices, decode objects sending batches of measurements, follow the success rate of upward messages, create installation reports with Live Objects Sensor...
Monitoring the quality of your LoRa connection
Now you can follow the success rate of uplink messages of your fleet.
You find it in "Device activity" dashboard. You get the blue " Uplink success rate " curve by selecting the "messages" graph.
This rate is the ratio of the number of messages received from your objects over the number of messages that should have been received.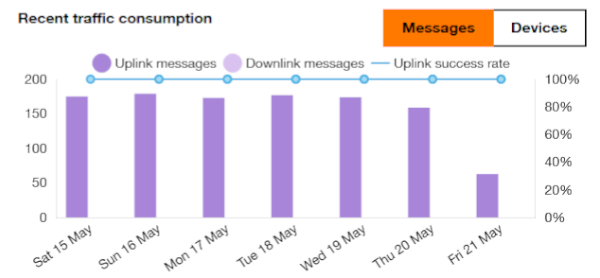 In addition, in our last email, we announced the possibility of monitoring the connection quality of a particular object. Edit this object and go to the bottom of the supervision section.
You already had the min / max / average RSSI, SNR, SF and ESP values, now you also have the minimum, average and maximum LoRa gateways used by the messages of the object you are monitoring.
Do you have LoRa coverage extension antennas?
You can export the list of your LoRa antennas as a CSV file.
You have the following information in this file:
Antenna name and ID
Description
Its type (NANO, FEMTO, UNKOWN)
Its status (unknown, Online, Offline)
Its location (entered manually )
Data decoding, case of measurement batches
If you have the premium offer and if your objects send in the same message several measurements taken at different times, our decoders can split them and insert them in Live Objects as if each of the measurements had been sent separately .
Our public decoders will be extended to the objects of measurement batches.
Find out more in the developer guide.
JavaScript code generator for your own decoders
If you have the premium offer (again 😉 ), we offer you an automatic code generator for JavaScript decoders.
At the moment, it works for messages
from objects that send one or more types of frames
each frame is made up of a fixed number of fields
each field keeps a fixed length
So you can automatically generate the code, documentation and test classes in a single ZIP file, to send us to liveobjects.support@orange.com for testing and put it on your account.
Installation reports in the mobile app !
New functions in Live Objects Sensors (you don't use it yet?! to download it is here )
add several properties at once
see the configurations of your MQTT objects (with Multi connectivity option)
and above all, generate installation reports (name of the installer, date, type of action, image of the installation, object information, etc…)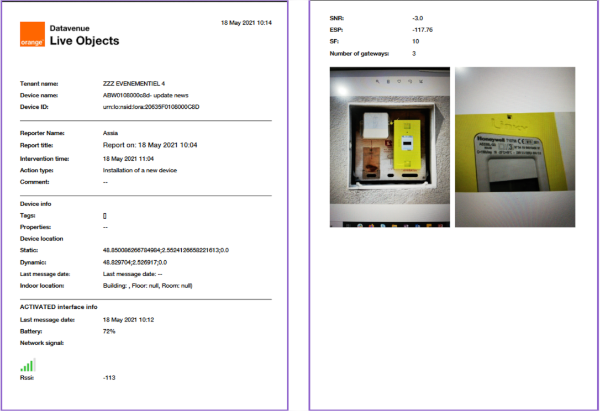 Device inventory API -> Inventory Explorer
2 APIs that allow you to do research and stats on your items. These are the APIs we use to allow you to display widgets for organizing your fleet of items.
API " stats " to count and aggregations of your objects.
API " search " to search in all of your objects
For both, you can use RSQL to filter as you want.