Fast IoT Application development with Kheiron & Live Objects
IoThink Kheiron solution is now integrated with Live Objects.
Kheiron + Live Objects offer a powerful 0-code Application Enablement solution relying on an Orange secured multi-connectivity and device management platform.
The Orange Live Objects Team is happy to partner with IoThink to provide fast IoT Application development . The 0-code IoThink Kheiron Suite is now integrated with Orange Live Objects.
As a result, you will dramaticaly speed-up and ease the development of your IoT Business Applications !
What does the Kheiron Suite offer for fast IoT Application development?
First let's see what does the IoThink Kheiron suite
Kheiron Studio
As a first step, the Kheiron Studio allows you to design and create the service logic of your Digital Twins :
Create your service logics (calculation, storage, alarms…)
Build your dashboards or your Mobile App
In order to develop IoT Application fast you can pick Digital Twins from the Kheiron public Library. You can also easily reuse your own Digital Twins for new projects.
Kheiron Service Platform for fast IoT Application development
As soon as you have built your Digital Twin template with the Studio, you can then :
Bind IoT devices with your Digital Twins
Manage your end-users, grant them access rights
Distribute your applications

Live Objects is a secured and resilient IoT Saas platform hosted in France. In this context it provides the following set of services:
Multi-connectivity

Live Objects can seamlessly manage LoRaWAN, SMS, MQTT, HTTP, Coap (beta) over 2/3/4G, LTE-M, WiFi.
it can integrate any 3rd party GW or Cloud through its API for external connector

Enhanced collect

Multi-interface decoder
Event triggering & routing
Metadata enrichments
External enricher: 3rd party servers, Cell-Id/WiFi geolocation

Edge extensions for industrial use cases
IoT Fleet management

Advanced inventory
Command/config/FOTA, Campaign management
Silent/Suspect device detection
Android App for field technicians
Bootstrap (end 2020)

Data storage and indexing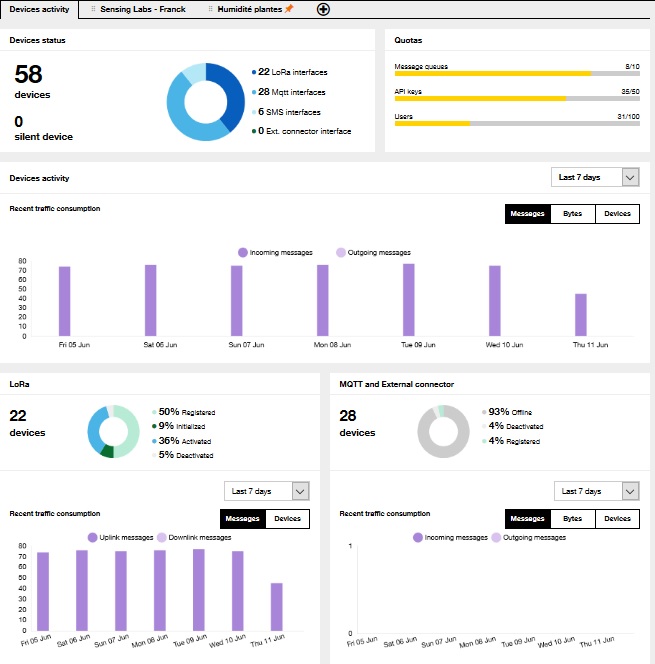 How does it works with Orange Live Objects?
The Kheiron Service Platform will set an endpoint with Live Objects. This endpoint will allow you to
feed your Digital Twins with the Live Objects IoT business data – today in push http
send IoT commands to Live Objects
…And all of this without writing any line of code!!!
In conclusion, the integration of Kheiron with Live Objects allows you to quickly develop and deploy full end-to-end secured and scalable IoT Business Applications.