Enrich, transform or decode your data before storage
The Data Messages sent to Live Objects can be enriched or transformed before storage by the Custom Pipelines service.

You can create your own pipeline to perform one or several enrichment steps on specific Data Messages.

Before storage and routing, your payload gets several data processings. Custom pipelines consist in transforming or enriching your payloads using a data processing outside Live Objects to transform data before storage.

Each pipeline is configured with an acceptance filter, allowing to target specific Data Messages.
You can do whatever you need, for instance:
compare the temperature of your warehouse with the external temperature you retrieve on weather API
get the remaining travel time of your truck thanks to your GPS tracker and Google Maps API
make calculation on your data using Node-RED
In 13 mn know how to transform your data before storage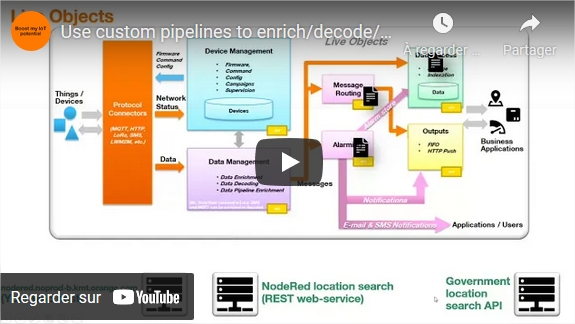 To start yours go to custom pipelines management
You are connected on your Orange Live Objects account? Click here : Go to my custom pipelines management