Cloud Connector Service: a seamless integration with your Cloud provider
Need to route and translate your IoT Business Data towards your Cloud provider? Live Objects Cloud Connectors allows you to easily translate your IoT Business Data towards your Cloud provider (Azure, AWS, Google Cloud, Flexible Engine)
Business Data: from my devices to my Cloud provider
IoT fleets can communicate on several networks (LoRa, 2/3/4/5G, SMS, Sigfox) and using different protocols (MQTT, LwM2M, proprietary…).
Most of the time your Business Applications are integrated into one of the major Cloud providers: Azure, AWS, Google Cloud, Flexible Engine.
Therefore, you need to:
ingest and translate your Business data for your Cloud provider
forward downlink commands from your Business Applications to your devices
This requires the development and monitoring of a dedicated backend.
Orange Cloud Connectors translate Business Data towards your Cloud Providers
With Live Objects we offer you the possibility to easily setup Orange monitored Cloud connectors towards Azure, AWS, Google Cloud and Flexible Engine. These connectors collect from Live Objects the IoT Business Data whatever their IoT network and protocol, then they translate it for your cloud provider.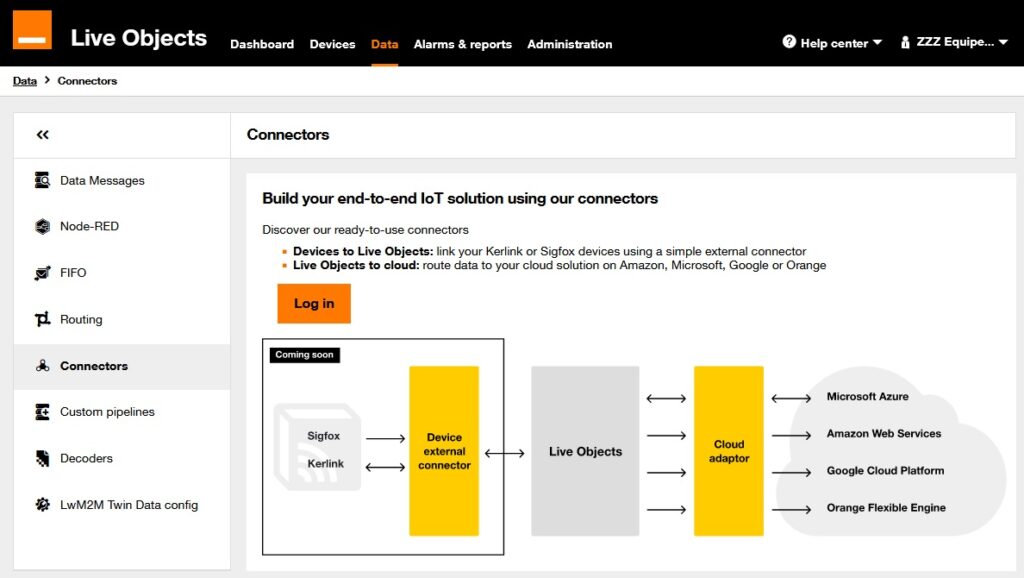 No development
Just go to the Live Objects portal, setup your routing rules then select and configure your connectors.
Synchronize your Azure IoT hub fleet with Live Objects
If you use Azure IoT hub, the connector can synchronize your IoT fleet between IoT hub and Live Objects. You will also be able to seamlessly send downlink commands from your IoT Hub interface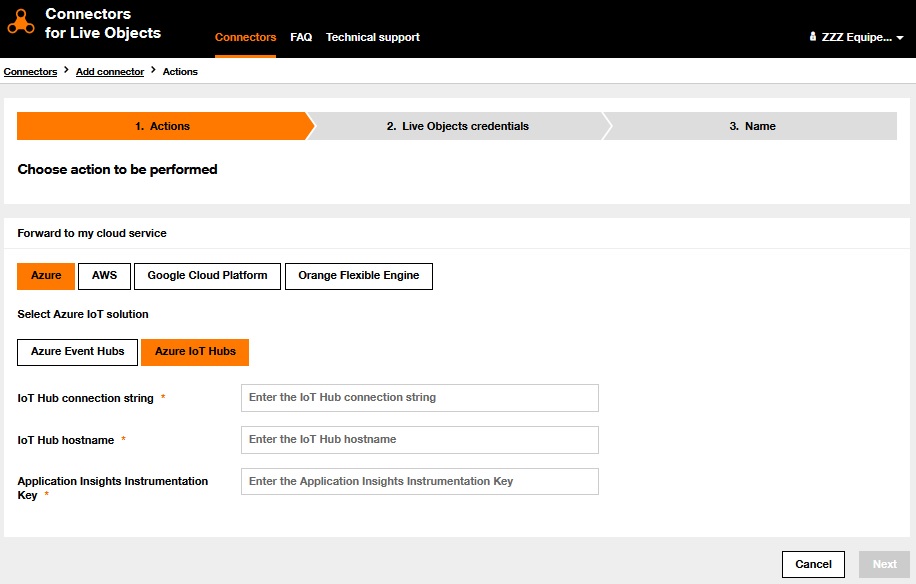 So, why don't you test this new feature?